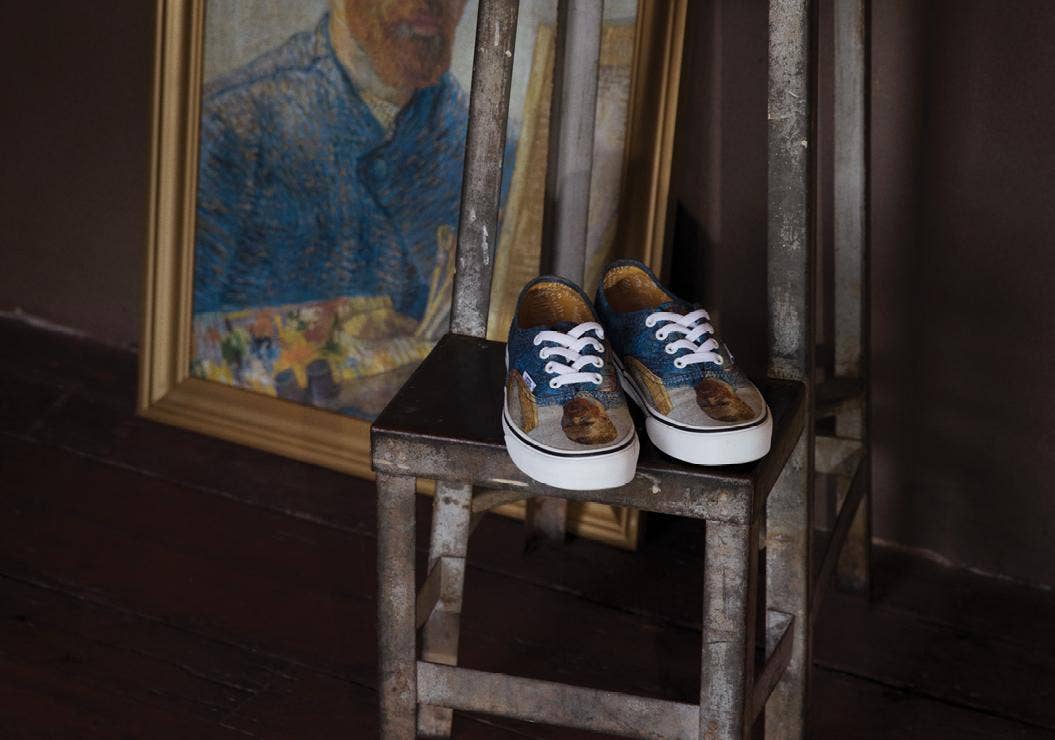 Vans and the Van Gogh Museum proudly partner to present an artfully designed collection utilising Van Gogh masterpieces across iconic Vans Classics available at Incu and Vans.com.au from August 3. The Van Gogh Museum will dedicate a portion of its profits from this project to the preservation of Vincent van Gogh's legacy and collection of art; keeping it accessible for future generations.
Vincent Van Gogh is arguably one of the most famous and influential post-impressionist painters in the history of western art. Van Gogh is most noted for his work that evokes beauty, emotion and color bringing his personal expression to life through his art. With over 2,100 pieces of artwork produced from his decade long career, Vans worked closely with the Van Gogh Museum team to select four main bodies of work that speaks to the creative ethos of Vans' design as well as personal moments from the artist familial history. Skull, Almond Blossom, Sunflowers and Van Gogh's self-portrait are celebrated through an extensive Vans collection, showcasing some of Van Gogh's most revered artwork in a new way.
"We are delighted with the Vans x Van Gogh Museum collection, as it ties in with our mission to make the life and work of Vincent van Gogh accessible to as many people as possible in order to enrich and inspire them", said Adriaan Dönszelmann, Managing Director of the Van Gogh Museum. "By uniting Van Gogh's iconic artworks with iconic Vans styles, our partnership brings Vincent's art "Off The Wall" and into the world to a new audience outside the museum." More colorful renditions come from two of Van Gogh's most recognised works, Sunflowers and Almond Blossom. Van Gogh created five large canvases that depicted sunflowers in a vase using three shades of yellow to help demonstrate the ability to create an image with varying degrees of color and texture all while using single color tones. The Sunflowers painting has been dissected to cover every panel of the Authentic.
The collection showcases the evolution of Van Gogh's painting style with his self-portrait where he captures himself using bright, unblended colors and a new technique of pairing complimentary colors to create depth and intensity. Van Gogh's self-portrait can be found wrapped atop the Authentic. Each model from the Vans x Van Gogh Museum collection footwear collection is finished with custom footbed art that mimics Van Gogh's memorable brush strokes with the Van Gogh Museum and Vans logo lock-up. Each piece from the collection will also include a special hangtag that highlight historical facts behind each piece of Vincent Van Gogh's art.
#VansxVanGoghMuseum